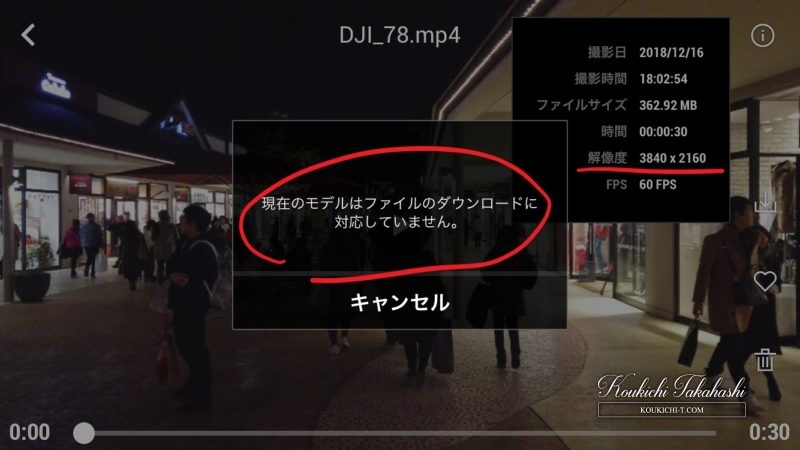 DJI Mimo:App for DJI Osmo Pocket." width="450″ height="800″ /> DJI Mimo:App for DJI Osmo Pocket.[/caption]写真・動画一覧画面から特定のファイルをタップすると拡大表示。
この画面からダウンロードしてスマホ保存したりできるのだが…写真やフルHD(1920×1080)動画は正常に保存可能。しかし!どうやら4K動画には現状対応していない模様…
Osmo Pocket 4k/60fps、30fpsともにスマホ保存できない
4Kだとフェイストラッキング・アクティブトラック使えないのと同様にここら辺は悩ましい。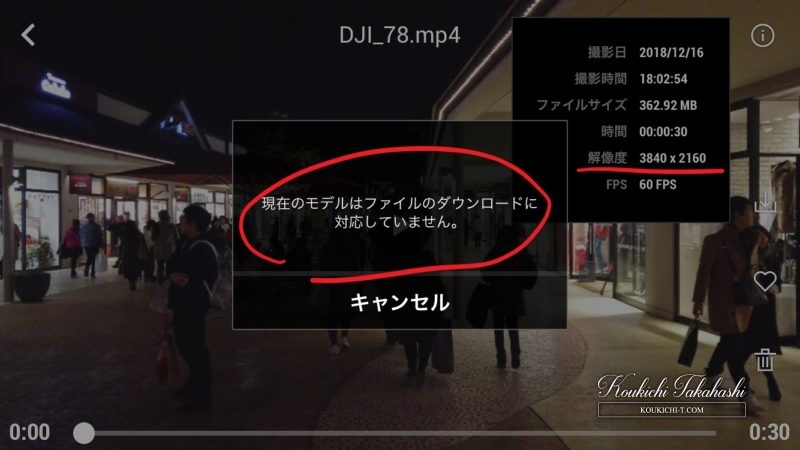 「撮影」>「スマホに保存」 > 「Adobe Premiere Rushでサクッと編集」と、撮影時の想いやら熱やら含めてインスタ、IGTV、YOUTUBEとかにリアルタイム投稿ってのが理想。そのためのコンパクトさでもあるわけだし。
DJI Mimoで4k > フルHD変換できたらいいのに
まあSNSシェアなら4kじゃなくてもよいかもだけど。それならそれでフルHDへの変換とかできたらいいのに。
逆に言えば顔認識でターゲット追跡とかそっちも対応してないので整合性とれているともいえるが。軽く写真撮影・動画撮影してみた感じかなり気に入ったので細かなところは今後のアップデートに期待したい。
小分けでDJI Osmo Pocketの使用感やメリット・デメリット、良いとこ悪いとこブログに記事アップ予定!気になってる方はチェックを
価格比較/巡回リンク:DJI Osmo Pocket

DJI史上最小の3軸ジンバルスタビライザー搭載4Kカメラ。
高画質を実現する1/2.3センサーに視野角80度のレンズを搭載。
I'm using Google translate↓
Photos and movies can be saved in smartphone with DJI MIMO application called Ozumo pocket …
DJI Osmo Pocket can be connected to the smartphone without using accessories / attachments when using the attached connector. You can install the compatible application DJI MIMO, shoot, manage photos and animations, edit something.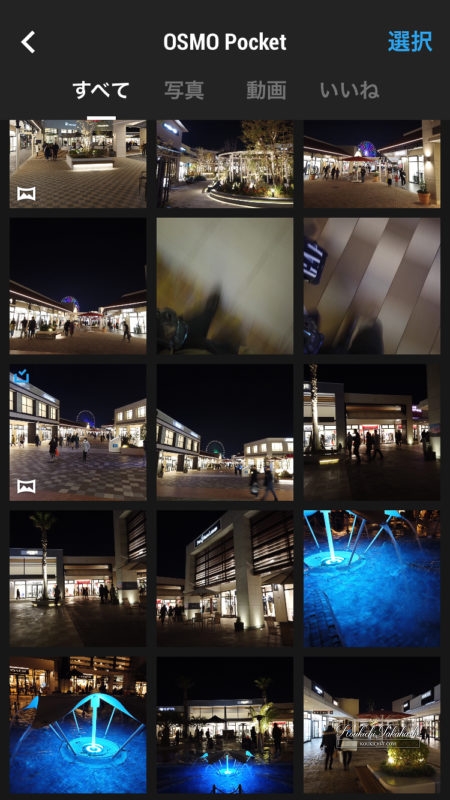 Application for Osmo Pocket "DJI Mimo" file list screen. Pictures / videos can be edited / managed by ozumo pocket-specific application and saved in smartphone.
However! Apparently it does not correspond to 4K movies at present …
Tap a specific file from the picture / movie list screen to enlarge.
It can be downloaded from this screen and saved to a smartphone … but photos and full HD (1920 × 1080) movies can be saved normally. However! Apparently it does not correspond to 4K videos at present …
Osmo Pocket 4k / 60fps, 30fps can not be saved to smartphone </ h2>
As for 4K, face tracking / active track can not be used as well as here the neighborhood is annoying.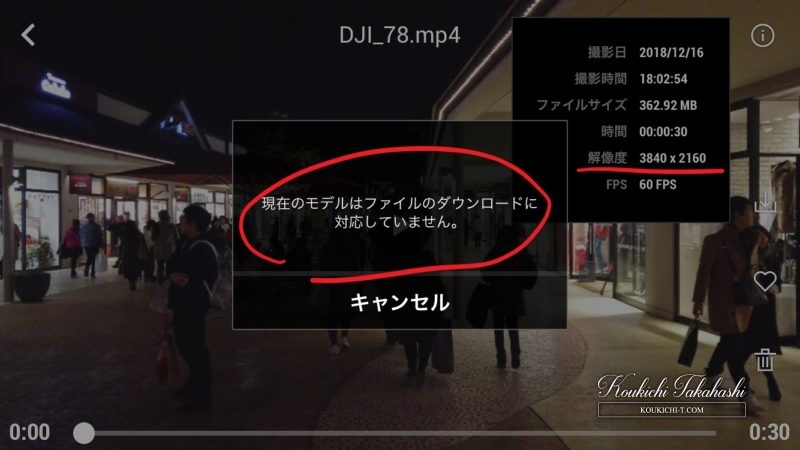 Ideal for posting in real time, such as Instant, IGTV, YOUTUBE including "Shoot"> "Save to smartphone"> "Squirt editing with Adobe Premiere Rush", and feelings when shooting. It's also compact for that.
& nbsp;
In other words, it can be said that consistency is obtained because target tracking with face recognition or something like that does not correspond. I felt like lightly photographing and movie shooting and I liked it quite a lot so I would like to expect more details from future updates.
I will upload articles on DJI Osmo Pocket usage feeling, merit / demerit, good and bad, this blog on subdivision! If you are interested in checking
価格比較/巡回リンク:DJI Osmo Pocket

DJI史上最小の3軸ジンバルスタビライザー搭載4Kカメラ。
高画質を実現する1/2.3センサーに視野角80度のレンズを搭載。
この記事も読まれています