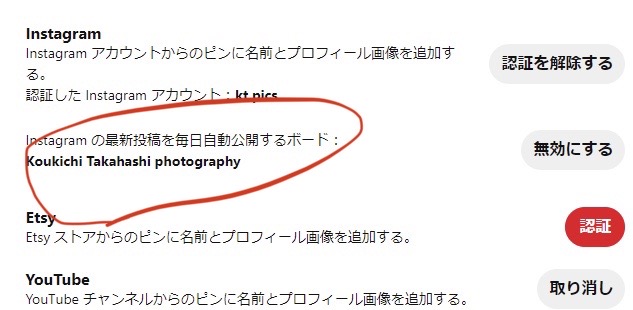 Translate with DeepL
Pinterest has been told that Pinterest's ability to auto-pin posts from Instagram is scheduled to be discontinued.
Pinterest's automatic pin posting feature for the latest Instagram posts is scheduled to be discontinued.
The auto-sharing feature enabled by the Instagram integration of Pinterest business accounts will be discontinued on June 22.
You will no longer be able to automatically publish Instagram posts.
Pins that have been auto-posted in the past will not disappear.
The Instagram collaboration itself continues.
Here's what I think I can summarize about the impact of this time.
If you're running Pinterest with a business account, you've already been notified by email. I think it's right, but there's not much information. I think it's right, but I don't have a lot of information, so I'll make additional corrections when I get additional information.
As for the automatic posting function from Instagram to Pinterest, I have the impression that it's been around for a while, but it's been implemented since March 20, 2020.
I don't know for sure, but if that's the case, the feature was discontinued in a very short period of time. It seems like a lot of people are using IFTTT for automatic posting from Instagram to Pinterest, and it's not really used I guess that means there wasn't one.
Over the past few years, the topic of Pinterest has come up again in Japan, and I'm sure there are many people who are thinking about using it in the future.
When you do, this import feature allows you to use the posts and photos you've already distributed on Instagram. You can pin them all together to a Pinterest board.
When you set it up, it doesn't import all the posts at once, but rather dozens of them in small chunks. It was like being pin-posted.
I don't remember it clearly, but I got the impression that it took a few days with about 900 posts on the insta side. .
If there is any other relevant information, I will update it again.
Goodbye.
Translated with www.DeepL.com/Translator (free version)
なにか参考になったなどあればぜひシェアお願いします!